The Joseph Levy Foundation (JLF) was founded by the late Joseph Levy CBE BEM in 1965 and the present trustee board consists of children and grandchildren of the founder. JLF took on its present form in 1999 when it merged with the Lawrence Levy Charitable Trust. The charity's constitution allows us to support general charitable purposes.
Joseph Levy CBE BEM 1906 – 1990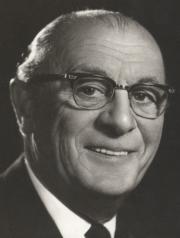 Joseph Levy (known as Joe) trained initially as an estate agent and in 1938 created his own agency DE & J Levy with his brother David. He later became one of a small group of London property developers who helped rebuild the city during the 1950s and 1960s following the devastation of the Second World War.
Joe worked all his life for many charitable causes and in particular had a deep concern for the welfare of young people.  His longstanding interest in youth causes began as a member and manager at Brady Boys' Club.  He subsequently became a Vice-President of the London Federation of Boys' Clubs, now London Youth.
In 1963 he became a Founder Trustee of the Cystic Fibrosis Research Trust, now the Cystic Fibrosis Trust, acting as Chairman for almost twenty years until his retirement in 1984. He was awarded the MBE in 1976 and the CBE eight years later for his dedication to charitable causes.
Lawrence Levy 1947 – 1995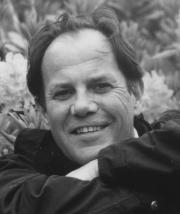 Lawrence, Joseph Levy's youngest son, combined his love of golf and his artistic ability to become one of the world's foremost golf photographers. He took up photography in 1978 and in the 1980s joined the magazine Golf World. Later, his gift for photography earned him the position of official photographer for both the Ryder Cup Team and Open Championship Programme.
Lawrence's passion for the game led to his interest in the English and Wales Blind Golf charity, whilst his strong affinity with young people led him to become an early supporter of the Chicken Shed Theatre Company.  JLF continues to support these charities, together with others such as the Cystic Fibrosis Holiday Fund which Lawrence helped create.
In 1993 Lawrence began to reduce his assignments to dedicate more time to his philanthropic concerns, although sadly his premature death two years later from cancer prevented many of his ideas coming to fruition.
A selection of Lawrence's photographic work can be viewed on the University of St Andrews website.